Autumn's nearly here!!
How gay right?
So these are the products I had been loving last month!
First is the Aussie Leave-in Conditioning Spray 
Obviously as summer ends, a consequence to enjoying the sun too much is dry hair due to the sun sucking all the moisture out of it as you are innocently trying to get a tan (well those of you that like to be brown anyway, I spend most of summer hiding in the shadows as I like staying as pale as I can). Since I use curlers regularly and wash my hair every night thus drying my hair every day this also contributes to killing my hair. I imagine my hair feels a little like this:
Anyway, this leave in conditioner is applied on damp hair and then you hair dry as normal. I really really love this as it has helped my hair rejuvenate itself and become slightly more healthier than it was when exposed to the heat of Hong Kong and England has been strangely warm lately too!
Next up is the Rimmel Scandaleyes Shadow Stick in Gold Digger:
It's like a pale goldy-nude colour, I don't use this the conventional way (as an eyeshadow) I use it as an eyeliner for the bottom of my eyes. I love this because it really makes my eyes pop and look brighter! I've been a fan of using eyeshadow sticks as eyeliner however despite trying loads of colours I always come back to this colour because it's just so natural and I love iiiiiitttttttt!
I have been loving my Tangle Teezer lately:
Like I said my hair's been like "meh save me, I'm a cactus" so it's been reeeaaallllyyy knotty 😦 this has been my new best friend this summer as it has been getting out my knots with no pain added!! Why can't all brushes be like this?
Next is not really a beauty product but something I had been drinking pretty much all August and that was hot water with lemon slices in it.
This is suppose to be really good at clearing your inside especially the oils from oily stuff you eat etc, I'm pretty sure there's like detox 'diets' where you only drink lemon water so that's how cleansing it is ahah. But my mum always warns me not to drink to much because it can be too acidic? (I'm trying to translate from cantonese haha) for your stomach or liver or something. One of your organs anyway so drink in moderation!! But also I loved it because I love sour stuff so I can pretty much eat lemons as if it was an orange :')
This last favourite is also not really a beauty thing but I have been loving the Brave Cover by Macy Kate and Sara Skinner so give it a listen and tell me what you think! It has been on repeat since the middle of August. I love it so much.
PS. Look what I bought today for my uni room!!!
I feel like a princess!
And this from River Island is just too good not to buy: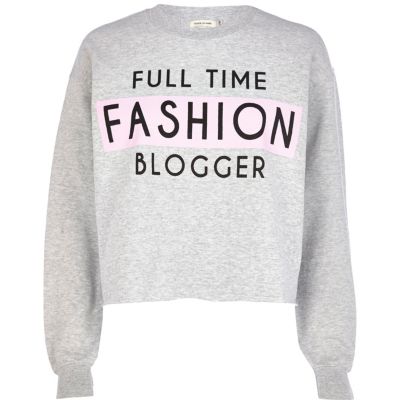 http://www.riverisland.com/women/t-shirts–vests–sweats/sweaters–hoodies/Grey-full-time-fashion-blogger-sweatshirt-658910
PS. Can I just rant about student finance in this last little bit? This also happened today. They sent me my letter saying how much I would get whilst attending Lancaster University. (oh yeah I went through clearing and now I'm not going to Kent I'm staying closer to home and Lancaster!! Which is amazing because Lancaster is such a good uni and I feel like I cheated to get in because everyone else got their grades to get in which were like AAB above and I got BBBB and wormed my way in. SO SCARED I AM INADEQUATE!) Anyway, now there's a thing you have to sign to show you agree or something I dunno but they didn't send me the sign thing but sent me the envelope that the sign-y thing has to go in so I was like:
So I just rang them then to ask if I still needed to sign it cause they gotta send it me! And had to answer like a gazillion (okay like 5) security questions; then the last question was "what's your National Insurance number?" and I was like erm I dunno? WHO MEMORISES THEIR NI NUMBER?!
And the woman proceeded to tell me that we couldn't continue since I needed my National Insurance number in order for them to help me so I should ring back when I have it (which will probs be tomorrow so no biggie) but I mean COME ON. I JUST ANSWERED ALL THE QUESTIONS RIGHT AND THIS ONE QUESTION THAT I DON'T HAVE THE ANSWER FOR YOU PICK ME UP ON?! Waste of my time. I hate that. I hate wasting time I don't need to. But the woman was dead nice so I didn't do this:
But yeah, I was pretty angry, but now I'm calm because there was nothing they could do and there's no point stressing over it and now I've told you about it I'm a lot calmer because I got it out of my system.
So yeah, that was my August Favourites plus a mini rant haha!
REMEMBER TO FOLLOW MY NEW BLOG!!!!!!!!!!!!!!!!!!!!!!!
Because otherwise it will be byebye soon 😦
SCY
xoxoxo